How to Stop Your Tennis Racket from Slipping: All You Need to Know
Preventing your tennis racket from slipping during play is essential for maintaining control and consistency in your shots. Here are some tips to help you stop your tennis racket from slipping:
Choose the Right Grip Size: Ensure that you're using a grip size that fits your hand comfortably. An overly small or large grip can lead to slippage. You can measure your grip size by referring to a sizing chart or consulting with a tennis pro. Tennis racket grip tips
Use Overgrips: Overgrips are thin, cushioned wraps that you can add over your base grip. They provide extra tackiness and absorb sweat to prevent slippage. Overgrips are easy to replace when they wear out. Tennis players' racket choices
Select a Grip with Good Traction: Different grip brands and models offer varying levels of tackiness and durability. Experiment with different grips to find one that suits your playing style and minimizes slippage. Tennis racket size options
Keep Your Hands Dry: Sweaty hands can be a major cause of slippage. Use a towel to wipe your hands and face during breaks in play. Some players also use a rosin bag or grip enhancer to improve grip.
Change Grips Regularly: Over time, the grip on your racket will wear out, becoming smoother and less effective. Replace your grip or overgrip when you notice it's losing its tackiness.
Improve Your Grip Technique: Pay attention to how you hold the racket. Make sure you're gripping it correctly using either a continental grip (for serves and volleys) or an eastern or western grip (for groundstrokes). Proper technique can help reduce slippage. Understanding racket parts
Use a Two-Handed Backhand: If you struggle with slippage during one-handed backhands, consider using a two-handed backhand. This can provide more stability and control.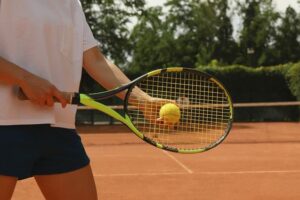 Wear Appropriate Tennis Gloves: Some players wear tennis gloves, especially in hot and humid conditions, to help maintain a good grip on the racket handle.
Tighten the Grip Properly: Make sure you've secured the grip tightly on the handle. Loose grips can cause the racket to rotate, leading to slippage. Professional racket cost
Practice Proper Footwork: Good footwork can help you maintain balance and stability, reducing the chances of your racket slipping. Focus on your positioning and movement on the court.
Stay Relaxed: Tension in your hand and forearm can cause your racket to slip. Try to maintain a relaxed grip on the racket handle during play.
Maintain Your Racket: Check your racket regularly for any signs of damage or wear, including the grip. Replace any worn-out or damaged parts promptly.
Remember that preventing slippage is not only about the racket but also about your grip, technique, and overall physical condition. Experiment with these tips and make adjustments based on your playing style and preferences to help ensure a firm and secure grip on your tennis racket. Tennis racket swapping
Understanding the Problem
Before diving into solutions, let's explore why your tennis racket might slip in the first place. There are several reasons for this issue, including:
Sweaty Hands
Intense rallies can make your hands sweat, causing the racket handle to become slippery.
Poor Grip Technique
Using an incorrect grip technique can lead to a lack of control over your racket. Tennis racket weight info
Worn-Out Grips
Over time, racket grips wear out, losing their traction and making it easier for the racket to slip.
Incorrect Racket Size
Using a racket that doesn't fit your hand properly can contribute to slipping.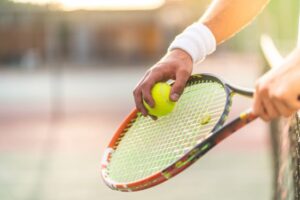 Preventing Racket Slippage
Now that we've identified the causes, let's delve into practical solutions to prevent your tennis racket from slipping. Racket lifespan insights
Choose the Right Grip
Selecting the right grip size and type is crucial. Experiment with various grips to find the one that feels most comfortable and secure in your hand. A grip that suits you will significantly reduce the chances of slipping.
Overgrip Replacement
Regularly replace your overgrip. Overgrips are affordable and can provide an extra layer of cushion and traction. Change them when they become worn or lose their grip.
Use a Sweatband
Wearing a sweatband on your wrist can help absorb moisture, preventing it from reaching your racket handle. This simple accessory can make a significant difference in maintaining your grip.
Improve Your Grip Technique
Work on your grip technique with a coach or through online tutorials. Ensure you're holding the racket correctly, as this is fundamental to preventing slippage.
Keep Your Racket Clean
Regularly clean your racket handle to remove sweat, dirt, and debris that can affect your grip. A clean handle provides better traction.
Try Tacky Overgrips
Some overgrips are specifically designed to be tackier, providing an enhanced grip. Experiment with these to see if they improve your control over the racket.
Adjust Your Racket's Weight
If you find that your racket is too light, consider adding lead tape to increase its weight. A heavier racket can be more stable and less prone to slipping.
Stay Hydrated
Staying properly hydrated can help reduce excessive sweating during a match, which can contribute to a slippery grip.
Maintain Your Racket
Regularly check your racket for any signs of wear and tear. If you notice any issues with the handle or grip, address them promptly to prevent slipping.
Conclusion
A slipping tennis racket can be a frustrating obstacle to your game. However, with the right techniques and equipment, you can minimize this issue and focus on improving your skills on the court. Remember to choose the right grip, replace overgrips, and practice proper grip techniques. By following these steps, you'll be well on your way to a firmer and more effective grip on your tennis racket.
FAQs
Q. How often should I replace my overgrip?
A. It's a good idea to replace your overgrip every 10-15 hours of play or when it starts to show signs of wear.
Q. Are there different types of tennis grips to choose from?
A. Yes, there are various grip sizes and types, including overgrips and replacement grips, each offering different levels of comfort and traction.
Q. Can I use a sweatband on both wrists for better grip?
A. While it's common to use a sweatband on your non-dominant wrist, using one on your dominant hand may affect your playing style. Experiment and find what works best for you.
Q. How do I know if my racket size is right for me?
A. Consult with a tennis coach or visit a sports store to get measured and find the racket size that suits you best.
Q. Is lead tape safe to add to my racket?
A. Lead tape is safe to add to your racket, but it's essential to follow proper instructions and consult with a professional if you're unsure about the weight adjustment.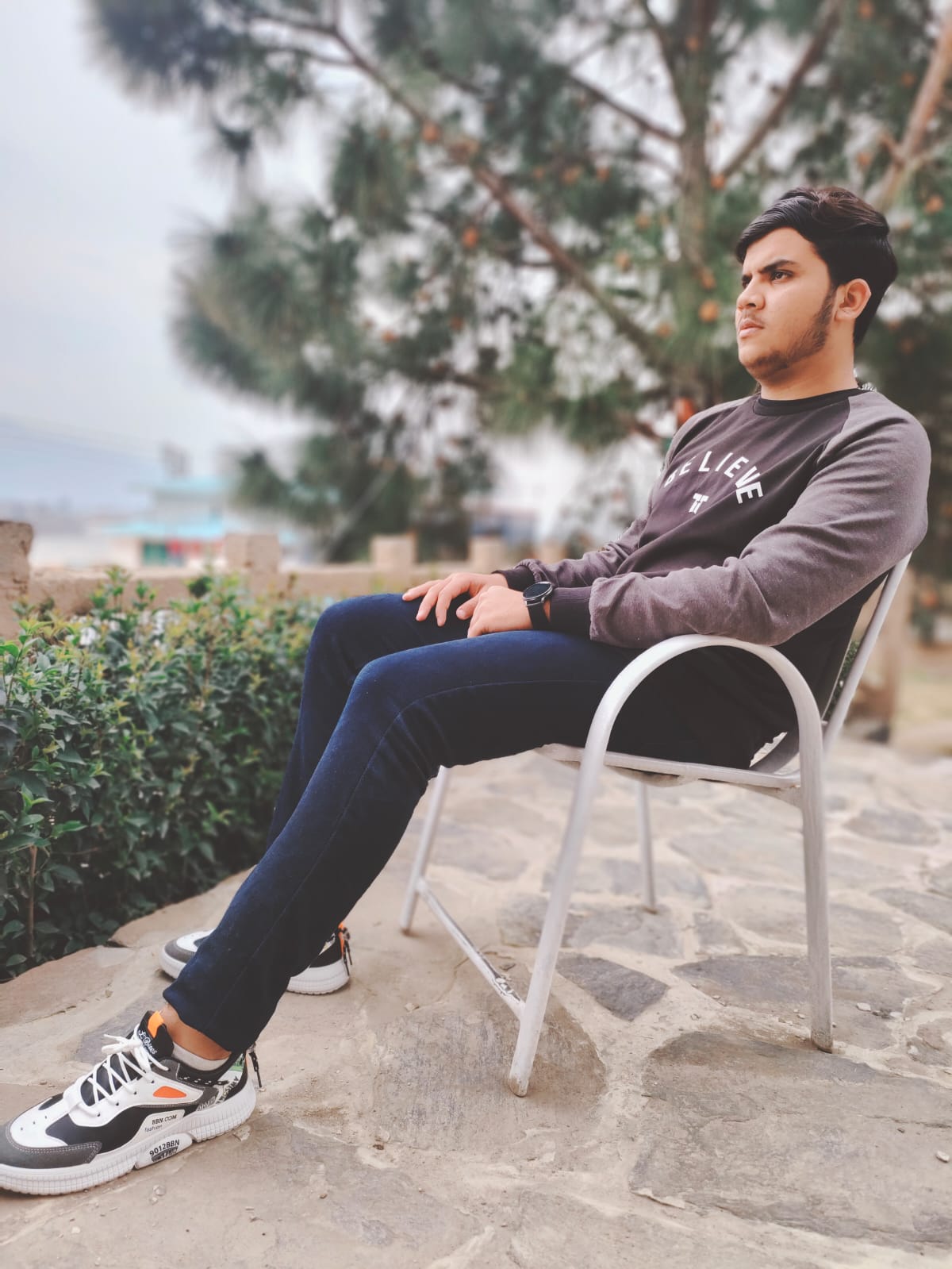 Hi there! My name is Hamza Rahim, and I'm a seasoned tennis player with a passion for helping players of all levels to improve their game. With great experience. I have developed a deep understanding of the sport's techniques and strategies. I will help tennis lovers to select the best tennis racquets, and balls and also share tips to become the best player on the ground. I hope from my information you will become a great tennis player as well as in your country and also worldwide. And my goal is to provide you with the best information about tennis.