How to Clean a Tennis Court: Tips and Techniques
If you're a tennis enthusiast, you know the importance of maintaining your court's surface. A clean and well-maintained court will enhance your game and prevent injuries. In this article, we will examine how to clean a tennis court using simple techniques and products.
Why is it important to clean your tennis court?
A clean tennis court is essential to ensure a safe playing surface, prevent injuries, and extend the court's life. Dirt, debris, and moss can accumulate on the court's surface, making it slippery and hazardous. Additionally, if the court is not cleaned regularly, stains from leaves, bird droppings, or other debris can become permanent and difficult to remove.
Preparing to clean your tennis court
Gather the necessary equipment
Before cleaning your tennis court, you'll need to gather the necessary equipment. This includes a pressure washer, a broom, a hose, a soft-bristle brush, and a tennis court cleaner.
Check the weather forecast
It's important to clean your tennis court on a dry day. If you clean it when wet, you risk making the surface more slippery. Check the weather forecast and choose a day when the court will be dry.
Clear the court of any debris
Before cleaning the court, remove any debris, such as leaves, twigs, and rocks. These can damage the surface or get in the way while cleaning.
Cleaning your tennis court
Remove stains
Start by removing any stains on the court's surface. You can use a specialized tennis court cleaner or a mixture of water and mild detergent. Apply the cleaner to the stain and let it sit for a few minutes before scrubbing it with a soft-bristle brush. Rinse the area with a hose.
Use a pressure washer
Next, use a pressure washer to clean the court's surface thoroughly. Make sure you use the correct nozzle and pressure setting for the surface. Avoid using a high-pressure setting as it can damage the surface. Start from one corner and work across the court, careful not to miss any spots.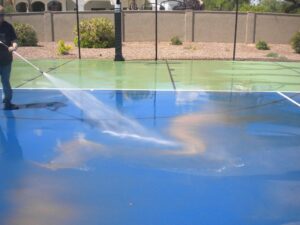 Clean the net and posts
Don't forget to clean the net and posts too. Use a soft-bristle brush and a mild detergent solution to clean them. Rinse them with a hose and wipe them dry.
Apply a sealant
After you've cleaned the court, apply a sealant to protect the surface from the elements. Make sure you choose a sealant that is specifically designed for tennis courts. Apply it evenly across the surface and let it dry completely before playing on the court.
Maintaining your tennis court
To keep your tennis court in top condition, you'll need to maintain it regularly. Here are some tips to help you do that:
Sweep the court regularly
Sweep the court regularly to remove any debris that may have accumulated on the surface. This will help prevent dirt and moss from building up.
Avoid using harsh chemicals
Avoid harsh chemicals on the court's surface as they can damage the surface and cause it to deteriorate faster. Stick to mild detergents and tennis court cleaners.
Repair cracks and damages
Inspect your tennis court regularly for cracks and damages. Repair them promptly to prevent further damage to the surface. If left unattended, these damages can lead to larger cracks requiring costly repairs.
Conclusion
Cleaning and maintaining your tennis court is crucial to ensuring a safe and enjoyable playing experience. You can keep your court looking and playing its best for years with the right equipment and techniques.
FAQs
How often should I clean my tennis court?
It's recommended to clean your tennis court at least once a month or more frequently if it's heavily used.
Can I use bleach to clean my tennis court?
No, bleach can damage the surface of your tennis court and should be avoided.
Do I need to pressure wash my tennis court every time I clean it?
No, pressure washing should only be done occasionally, as needed. Regular sweeping and spot cleaning should keep your court in good condition.
How do I remove moss from my tennis court?
You can use a specialized moss remover or a mixture of water and white vinegar to remove moss from your tennis court. Apply the solution and let it sit for a few minutes before scrubbing it with a soft-bristle brush.
Can I use a regular sealant on my tennis court?
No, you should use a sealant designed for tennis courts to ensure maximum protection and durability.
Don't forget to keep your tennis court clean and well-maintained to ensure you can enjoy playing tennis for years to come. We hope that these tips and techniques will help you achieve that goal.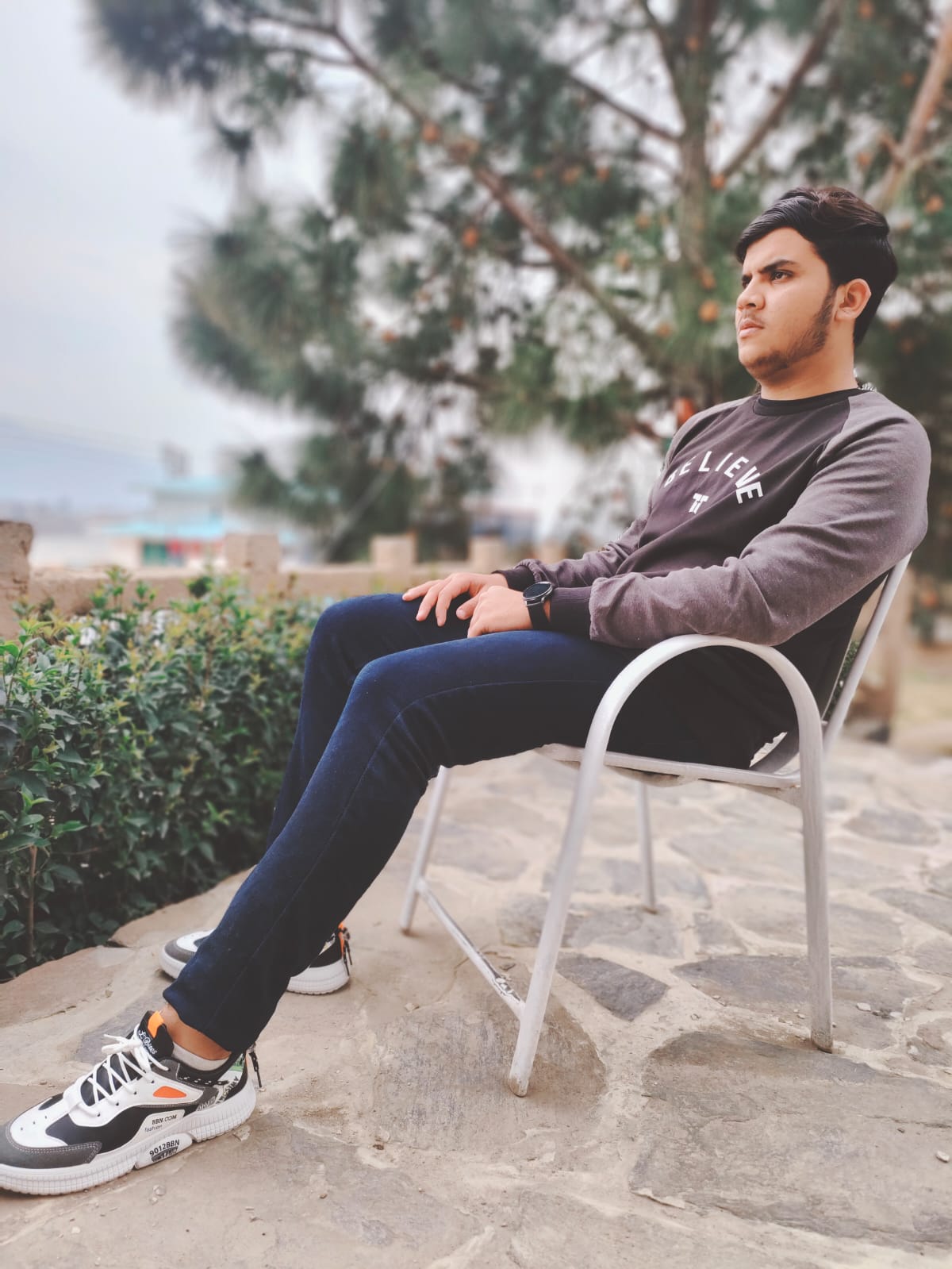 Hi there! My name is Hamza Rahim, and I'm a seasoned tennis player with a passion for helping players of all levels to improve their game. With great experience. I have developed a deep understanding of the sport's techniques and strategies. I will help tennis lovers to select the best tennis racquets, and balls and also share tips to become the best player on the ground. I hope from my information you will become a great tennis player as well as in your country and also worldwide. And my goal is to provide you with the best information about tennis.